Giving Open all the Gates For Receiving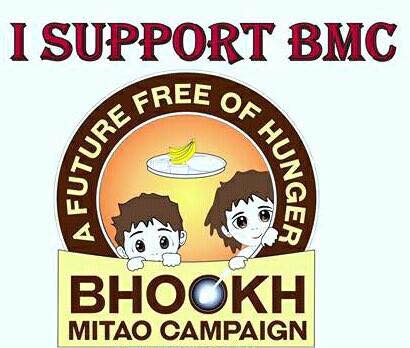 Bhookh Mitao Campaign was started on May 20, 2015 by Darshan Chandan.
No Poor Child should Sleep Hungry,not on temporary basis but permanently eradicate the Hunger. – Our mission
We will educate the children so that they don't beg,we will train their parents and make them capable for employment opportunity according to their interest,this will help in eradicating Hunger permanently form their life.
In BMC, we all members go to slum areas every Sunday, we take home cooked food for the kids, feed them, play games with them, teach them manners, good habits and more. In last 2 years, BMC has expanded in more then 5 towns and cities of Gujarat. If you want to be a part of BMC, or start BMC in your City, you can contact BMC team on this number – 09825229779.
We "Mind, Body & Soul" have decided to give 10% of our monthly Net Income to help BMC kids in joining Dance Classes, Music Classes, Mehandi Classes, and lot more. You can also donate here directly , which will be added for such classes.
Love,
Mohit Tahiliani
Founder of "Mind, Body & Soul"