25 Days Mind Reprogramming Workshop
Take Control of your Life in 25 Days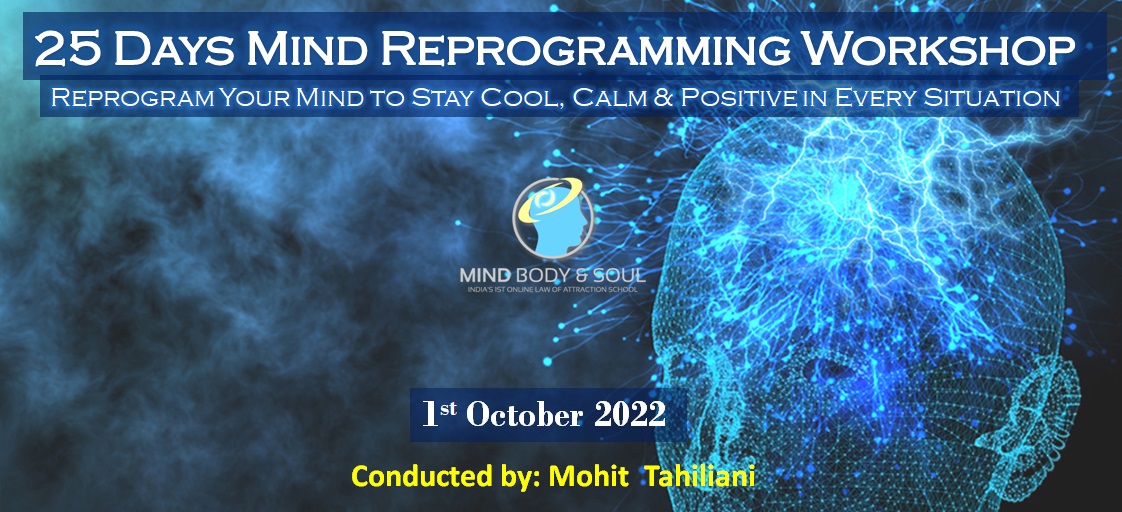 Do You Want to Be Cool, Calm & Positive in Every Situation of Life like a Monk..?
Yes, it is possible to Train Your Mind & become an Urban Monk… 95% People in this World React Negatively when they face Negative or Unexpected Situations. But there are 5% People who have trained their Mind to be Cool, Calm & Positive in Every Situation. I was among those 95% People too, but over the Years I have Master My Mind & Trained my Mind to be Cool & Calm no Matter What Happen in my Life. If I can become an Urban Monk, You can too.. It's easy but it takes Time & Practice. If you are Ready to Give 30/40 Minutes Daily to Train Your Mind, I will help you become an Urban Monk in Just 25 Days.
What is " 25 Days Mind Reprogramming Workshop " ?
It's my Advance Once in a Year Special Workshop where I help people & Train their Minds to Stay – " Cool, Calm & Positive" in Every Situation they Face in their Life. This Workshop is going to Start From 1st October 2022. It will be a Certified Workshop Conducted by Magical Mohit aka Mohit Tahiliani ( Founder of "Mind, Body & Soul" School ).
How is "25 Days Mind Programming Workshop" Conducted ?

This Workshop will be conducted in my Private Facebook Group for 25 Days.

Everyday I will post my Morning Videos in Facebook Workshop Group at 5Am ( English/Hindi).

First thing you have to do when you wake up is watch my Videos & then practice 15-20 Minutes in the Morning. Few practices have to be done in the morning, few at night.

You have to give 20 Minutes in the Morning & 20 Minutes at Night in the Workshop to Practice. ( Flexible Timings).

You will also get Personal Mentoring from me on Whatsapp Daily ( For 25 Days ).

We will also have Fun Friday Zoom Meetings every Friday.

You can Join my Morning Meditation Session on Zoom ( Optional ).

You can also book a Phone Counselling with me during the Workshop ( Optional ).
What are the Benefits of Joining "25 Days Mind Programming Workshop" ?
Register Today & Start Your 25 Days Mind Reprogramming Workshop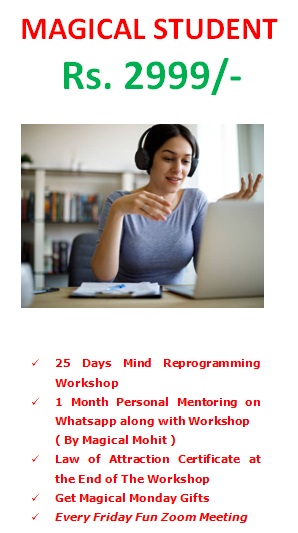 MAKE THE PAYMENT BELOW TO ENROLL
Fees to Enrol in my Life Transforming – "25 Days Mind Programming Workshop" starting 1st October 2022 is –
1. Magical Student – Fees is Rs 2999/- ( Workshop )
2. Vip Student – Fees is Rs 4999/- ( Workshop + Morning Meditation with me Daily  + 2 Phone Counselling Sessions )

You will find Links in footer of PayUMoney
PayTm / GooglePay – 9428153974
While you do the payment, capture the transaction id (take a screen shot) and mail me to mohitloa@gmail.com
Once you make the Payment and Enroll in our Workshop, you cannot Cancel and there is no Refund.
Reviews of My Previous Participants
I am a book worm and so always keep reading and learning different books and do different courses. I have 3 Bachelor degrees but no Master degree. So I had joined MBA and paid full 2 years fees in advance but that institute was fake and ran away with the fees which was a huge amount 10 years back. So I was scared to do Masters.

But years later I started my M.com from Ignou as evening classes with my job. And from day 1 I was giving thoughts for getting Gold medal.

I cleared my 1st year with 1st class result. But in 2nd year in written exam I had scored less marks including fail in 1 paper. I was totally alarmed and disheartened. I had given for rechecking but 2 months had gone and no results declared. I shared this with Mohit who is my Life mentor from last 1.5 years and I have done 3 of his Online "31 Days Mind Power Magic" Workshops. He told me how to be positive and change my frequency from negativity to positive vibrations and believe in my dreams.

Yesterday I checked the website and my results are reevaluated. I have scored good marks in the 2nd year also. Thank you thank you thank you Mohit for making me positive. Letting me believe in myself, magic and universe.

My experience with this magical practice is amazing. I m being more n more grateful day by day n getting more abundance and happiness. Feeling fulfillment with life and all complaints for life just vanished. It helped me to overcome the deep pain of loss of my father before few months. I have also shared this practices with my friends. All have got truly beneficial results and positive outlook for their life. I am so much grateful for having coach like Mohit Sir and Rhonda Byrne. Thanks a ton. May god bless you with all the beauty and happiness of life.

I knew about "The Secret" years back. The main problem was sometimes I could manifest my desires and sometimes I couldn't. One day while scrolling Facebook I came across Success Stories by other people who joined "31 Days Mind Power Magic" Workshop by Mohit Tahiliani who is a Law of Attraction Coach. Well I was going through a bad phase so I thought why not give it a try. This workshop was life changing for me. The moment I started with the Online Session I was so happy & positive. In a month I manifested my 4 out of 10 Short Term Desires, and the most awesome thing is that just after two months I was able to manifest my Long term Desire which was to work in my Dream Company. I am so happy and grateful that Mohit and Ayanka taught us the exact techniques to manifest anything that you want in life.

The main reason to join the magic practices was to consistently and rigorously follow the practices as previously I left them mid way. Well to start with, Day 1 COUNT THE BLESSINGS. – First of all it was a great deal for me to constantly do it without skipping a single day. – Second most obvious change I observed was, I opened my receptive side more. – Thirdly I had to settle some important issues, most important of them being handling my sisters job resignation and post settlements stuff. – In such times , the full co operation of the management and proper leiu of the notice period was a notable milestone for me. Apart from that fourth notable feat was my section as a co-author in an international conference and as a co author and presenter in National conference. And it would add a great value to my performance analysis and profile. – Fifth notable help from universe the timely detection of cataract of my mother and her successful surgery yesterday. I received the money which I had forgotten. Unexpected way to financial abundance, special offers, treats, handling dicey situations and many such notable things were the gift from universe. Among them also was meeting mohit and getting his specially autographed hard copy of his first book . This time he is combining the practices with mind power . So am looking forward to it. And I appreciate mohit specially for his thought process, pious intentions , strong positive belief system.One day I wanna be like you, inspiring million souls. Lots of prayers, happiness and blessings for you. All the best. Long way to go.

My Success story is about "How Magically and effortlessly I got an amazing Job offer with all my conditions getting fulfilled". I joined "31 Days Mind Power Magic" Session in March 2018. In March, one night , I was a little tensed on why am I not getting my desired job? But because I am now a more positive person, before sleeping I visualised for 2 minutes, me getting a Job and how I am so happy and I slept. On next day, when I got up and saw Mohit sir's post saying "I am getting a lot of Good News these days from all of you.', then I was like "Wow! That's Great" and instantly I felt more positive. Next thing I did was saying ' its going to be a wonderful day today' before getting out of bed , because I was happy and this was one of the practices taught to us in "31 Days Mind Power" Online Workshop by Mohit. After a while, I sat to check my mails and thought may be one of them is for the job saying 'You're hired' (because I was happy and feeling positive), but none of them were job related. Still I was like, it doesn't matter, it will happen and I left it in the universe. Later in the day, when I was rushing for my class, then all of sudden, one of my last job colleague started calling me like crazy (15 times to be specific) but I didn't pick because I was already late and had no time for talking to her. My phone kept ringing for good 15 minutes. After reaching in my class, I picked up the call and bingo. She was like "Where are you? I have got a job for you in Airtel and are you okay with it?" I said "Yes, obviously." She then asked the HR to call me and take the details and in 10 minutes my details were taken and i was Hired. Also, they were offering me the maximum amount they could and in my favourite taxation department. I didn't say a word for salary negotiation. They just thought I am eligible enough for that. 'YOU DON'T HAVE TO SEE THE WHOLE STAIRCASE , JUST SEE THE FIRST STEP AND CELEBRATE' Thank you so much universe, Thank You so much Mohit Sir and Ayanka Ma'am. Blessed Souls you two are .

I've had a great experience . Mohit sir you are not only a great teacher but a great inspiration I have tried each and every session so many times and will continue doing so .. because even while exercising each magical practice I have got a queue of good news almost every day . I have longed for a good job too . And I am pretty sure I ll get whatever I want 🙂 big thanks to you and yes I ll again be joining the same in Feb .. eagerly waiting for your next post 🙂 Thankyou thankyou thankyou !

I have been a true Fan of the Law of Attraction and Mohit Tahiliani's Amazing Magic Sessions!! This was my 2nd Session with Mohit, and till now it has been a wonderful Journey!!In the 1st Session, I brought my new Tab, which I so wanted to have, i also became the star performer in my newly joined job, I also attracted lots of smiling faces and more of thank you in my day to day life. I also, went on a TRIP to GOA, with the most amazing friends and the trip was super awesome and fun!!So, by the time, I finished the session, I had fulfilled my 3 wishes already!! :-)Soon, after the end of the 1st Session, I also got a Job which I exactly wanted to have. My 2nd Magic Session was even more wonderful.I had attracted my wish of Writing my own Book, and have started to write my own Book now !! 🙂 Also, one of my personal wish got fulfilled.Soon, after my 2nd Session, I brought my new brand Activa!! 🙂 Now, I don't mind, paying for a Magic Sessions which not only does wonders to my Life, but which also makes us realize our goals of life, our missed out wishes that we have somewhere missed it due to our hectic routine Life ! It makes you focus, on your life, your wishes, your life s Goals.And Lastly, Gratitude and Positive Attitude makes your life full of Joy and Laughter!! I am thankful to each day of my Magical Sessions and Mohit Tahiliani.I am extremely thankful to Rhonda Bryne.