21 Days Advance Soul Mate Workshop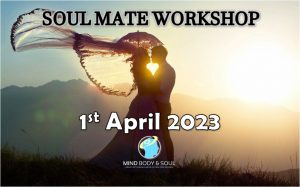 What is Soul Mate Workshop ?
One of the best feelings in this World is Love. We all need someone whom we can spend our lives with, this is why we get into Relationships. We all want to have a Soul-Mate or Life Partner with whom we can Fall in Love, who can be our Best Friend, who can be our crazy Travel Partner, who can be our Dance Partner, who can be our Partner in Crime, who can be the one Special Person we were born to be with.
Do you want to find your Special Love ?
Do you want to attract your Life-Partner / Soul-Mate ?
Do you want to get Married / Engaged in next 1 Year ?
If your Answer is "YES", then our "21 Days Soul-Mate" Workshop is Perfect for you. This Magical Workshop will be conducted by me (Mohit Tahiliani) & Ravina Gadiya (Soul Mate Coach) who is specialized in helping people for attracting their Life Partner.
Our "21 Days Soul Mate" Workshop is an Online Law of Attraction Workshop starting from 1st April 2023. It's a Life Transforming Workshop based on Law of Attraction Practices. In this workshop, you will get 1 Free Phone Counselling with Ravina Gadiya.
Everyday we will send you post in Facebook Workshop Group at 6 AM. First thing you have to do when you wake up is read my post & then practice accordingly. You have to give 30 minutes to practice on Daily basis. We will add you in a Facebook group where we will post Daily Practice which you have to do on that day, you have to also post your practice on daily basis for us to check in our group. It is a Secret group. If you have any doubts, you can message or mail me and I will solve your doubt on same day itself.
Results of Soul Mate Workshop
You will be happy and super excited about being in Love.

You will attract your Life Partner in next Few Months.

You will be mentally ready to be Engaged / Wedding.

You will be in alignment with your Desire.

You will start planning and take Inspired Actions for meeting your Life-Partner.
What will You Learn in this Workshop ?
How to be Happy and Love yourself.

How to Attract your Soul-Mate.

How to be ready to be in a Relationship.

How to Remove your Insecurities.

How to take Inspired Actions to be in your Relationship.

How to be the best Person you can be.
How Does This Workshop Works?
How To Enroll
Fees to Enroll in my Soul Mate Workshop –
1. Magical Student – One Time Investment is Rs 3999/- for Soul Mate Workshop + Daily Personal Mentoring on WhatsApp.
2. VIP Student – One Time Investment is Rs 4999/- for Soul Mate Workshop + Daily Personal Mentoring on WhatsApp + Morning Meditation Zoom Live
You will find Links in footer of PayUMoney
PayTm / GooglePay – 9428153974
While you do the payment, capture the transaction id (take a screen shot) and mail me to mohitloa@gmail.com